The Story of Comvita's Founding
Comvita founders, Claude Stratford and Alan Bougen, imagined people living healthy lives. Bees were their inspiration and honey their medicine.
Claude's fascination with bees started early. At six he began keeping bees and as a teenager he ran his own beekeeping operation. It wasn't until 1974 that Claude started making and selling a range of bee products from the basement of his home in Paengaroa. Later joined by Alan Bougen, Comvita was established with a founding vision; to create natural products that worked, while caring for the community and acting in a way that would preserve the environment for generations to come.
From humble beginnings 45 years ago, Comvita has grown into a globally-recognised natural health products business which is listed on the New Zealand Stock Exchange (NZX:CVT) and sells into 18 countries.
The Story of Comvita's founding, transcript available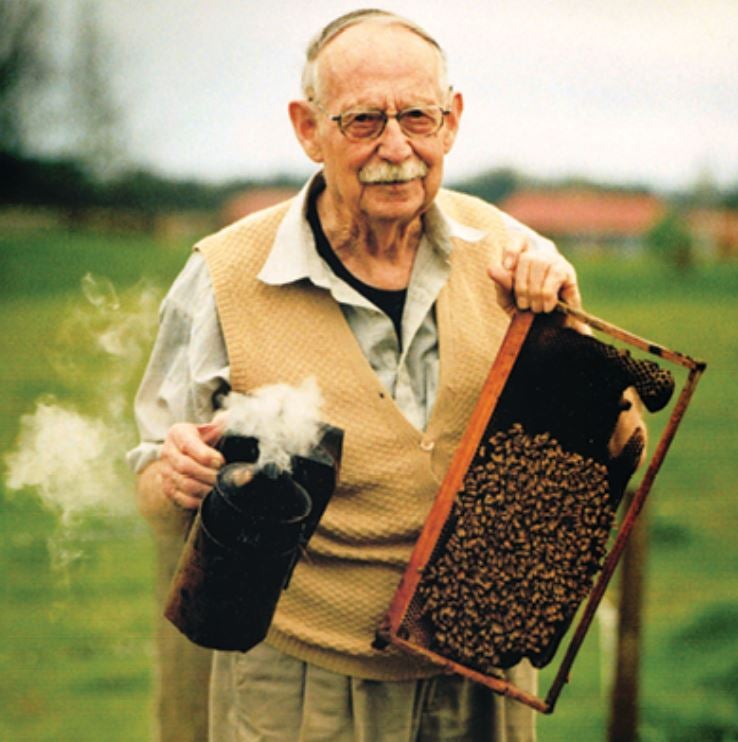 Claude lived a long and healthy life, almost reaching his 103rd birthday. He left a legacy most would be proud of. Throughout his many years, Claude was a true pioneer and believer in the importance of natural health remedies. He not only contributed so much to the health and wellbeing of his local community, but to so many people worldwide who're advocates of the power of Comvita products.

Claude Stratford's Top 10 Tips for Living Well:
A daily teaspoon of Comvita Manuka honey and a dose of Comvita Olive Leaf Extract (15 ml), two omega 3 fish oil capsules and a multivitamin tablet.
A tablespoon of bee pollen every day. Claude did this daily from the age of 26.
Persistence and at times - dogged determination. If at first you don't succeed, then try, try again.
A drive to help others is a strong motivator - Claude's primary reason for developing Comvita.
An unswerving belief in the power of nature to provide a source of healing.
Dream big dreams and treat any setbacks as challenges to overcome.
Accepting people as they are and believing the best of them.
Generosity of spirit.
Faith and prayer.
Read widely, keep up with the latest information about your interests, and have an open mind.
Here at Comvita, we continue to carry out Claude's vision; inspiring, enabling and empowering people to live healthy, happy and vibrant lives.