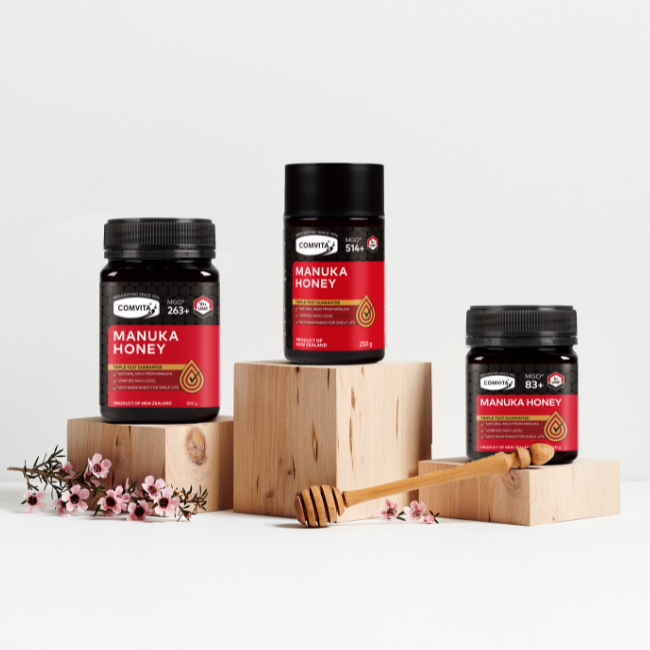 Our Unique Manuka Honey Triple Test Guarantee
Ensuring the origin and efficacy of our honey.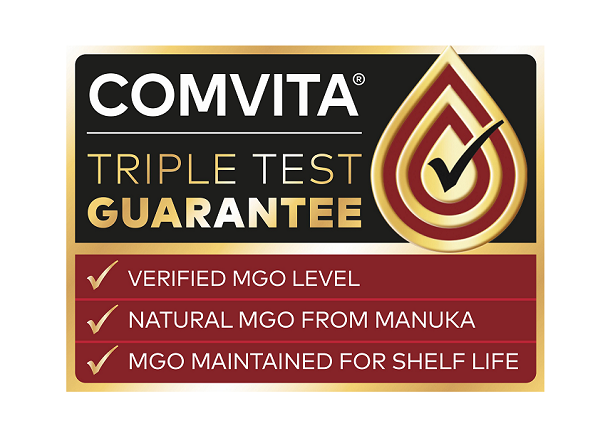 Manuka honey MGO vs UMF
No one knows manuka honey like Comvita. We've been perfecting manuka honey since 1974, and we're the only manuka brand to offer a Triple Test Guarantee.
As a member of UMFHA (the Unique Manuka Factor Honey Association), we comply with the UMF™ standard to ensure the authenticity, quality and purity of our manuka honey.
Manuka honey UMF™ vs MGO
The Triple Test Guarantee
Not all manuka honey is created equal. At Comvita, our manuka comes with a Triple Test Guarantee, ensuring the origin and efficacy of our honey in three distinct ways.
3 Reasons You Can Trust Comvita Manuka Honey
1. Natural MGO
Our manuka honey only contains naturally occurring MGO, tested for by the presence of the naturally occurring compound Leptosperin, found in manuka nectar. The presence of Leptosperin ensures that the MGO is from a natural manuka source.
The more MGO in your manuka honey, the more Leptosperin you'll see, indicating that it's genuine manuka with a natural MGO source.
Learn more about our Manuka Honey MGO Grading.
2. Verified MGO Levels
Comvita manuka honey is independently tested by the UMFHA standard to show that it contains verified MGO levels.
MGO levels indicate the level of antibacterial activity in the honey.
Learn more about our What our Manuka Honey labels mean.
3. MGO Maintained for Shelf Life
Our manuka honey is also tested for DHA (dihydroxyacetone) - the compound that eventually turns into MGO.
MGO naturally decreases in manuka honey over time, but we draw on extensive scientific research and use vigorous testing to guarantee that the MGO level (and subsequently the antibacterial properties) of Comvita manuka honey stays the same or above what's on the label for the honey's entire shelf life.
Find out more about the benefits of adding manuka honey to your routine.

Added to your basket
Sorry, there seems to have been an error. Please try again.
Subtotal: ( items in your basket)
Quick Buy
Sorry, there seems to have been an error. Please try again.